The London Silver Vaults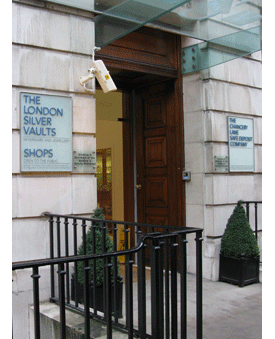 The Chancery Lane Safe Deposit opened in 1876.The strong rooms provided security for individuals who needed to safeguard their valuables.
From a storage facility the building developed into an underground shopping mall of mostly silver but also silver plate, jewellery, and other works of art. Our showroom is no. 17 and is in the middle of the main shopping corridor, on the right as you walk in.
At G.Cohen we deal exclusively in antique silver and as such our merchandise is sold under the antique scheme and is therefore exempt from VAT.
Due to its underground location, the Silver Vaults has sometimes been referred to as London's best kept secret. In fact , The London Silver Vaults is open during office hours and members of the public are free to enter, subject to a brief security check at reception.
G Cohen are a proud and long established fixture of the London Silver Vaults and as such we assure all visitors of a friendly welcome and a professional service.